Remember how I said I'm not much of a cook? Like I tend to just dump things in together, flavors I like and just hope it turns out well. In my opinion, that really isn't cooking, whether it involves an oven or not, but defines how I "cook". Well, I found this amazing web site

Emily Bites

and well… anyone can follow a recipe right? HaHaHa right….
The
recipe
calls for two types of cheese, I don't think I had even heard of one of them. I just figured only using cheddar would work . The problem, is that I had a block of cheddar cheese and no cheese grater. From experience, I do know that trying to melt a solid block of cheese to use in a sauce, wont turn out the best. So, I improvise… I use my veggie peeler! It was quite funny peeling my cheese block and it took forever needless to say. In addition, I figured I could just use penne and fresh spinach…. Right? How much of a difference is there between elbow macaroni vs. penne and fresh baby spinach vs. frozen chopped spinach? It's all going into a baked dish, there shouldn't be an issue. Well,
cooked
fresh spinach probably would be fine, the recipe even said it would be. Do you think I read that part of the recipe? Nope. Did I cook the spinach, prior to adding it in? Nope. It still worked, righhhhttttt....
So, I start cooking, needless to say I have no idea what four cups of cooked pasta is, so I just made the entire box. No biggie. Then not thinking at all, I started making the cheese sauce, before the penne was actually finished cooking, oops! I thought the recipe would include cook the pasta as a step in the directions. Well, I guess cooked in bold in the ingredient list was enough of an indication. Yeah… no. (I'm book smart people, common sense could use some massive improvement).
Being my first time making cheese sauce, I had visions of burning it. I thought it was going to burn like almost fully melted chocolate burns after three seconds too long in the microwave.

(Yes, I know you should melt chocolate in a double boiler, but that's not my point). So, I kind of puttzed around till it was finished cooking. Did I mention I have little patience when it comes to cooking?
Shockingly enough it did not burn, separate or boil while waiting for the pasta to finish cooking.
I took four full scoops with my 1-cup measure and put it in the bowl with the fresh uncooked spinach and cheese sauce. The problem is that four cups of cooked penne is a smaller amount than four cups of cooked elbow macaroni…. It's an insult to my education I did not realize this HA! Therefore, I just dump the rest of the cooked penne into to the mix.
I mix it all together and realize my sauce must have gotten too hot because it was very thin, not really bonding everything together. I'm not too sure, how I'm going to mold this mixture to fit into a muffin tin.
First off look at one piece of penne it longer than the bottom width of the muffin tin, do you think I realized this… nah. I tried to fill the muffin tins. Well, each muffin looked like it was filled with three ping pong balls, meaning nothing was bonded or mixed together, the sauce pooling at the bottom, penne coming out in all directions, tons of open air pockets, nothing staying in the formed mold. Pretty much a mess.
This was just really frustrating, I now had a muffin pan I had to wash, find another pan to cook this in and wait to until it cooked.

(I don't have a dish washer and I had almost a full sink of dishes from this recipe already… I was a little over it)

Needless to say, I was hungry, over the entire thing, mad my kitchen was messy and that it was past 7pm. But I still had to cook it…somehow.
So, I ditch the whole portion control concept and grab my 9x13 Pyrex pan and decide to just make this a pan of baked mac & cheese. It all fit in the pan too! It still really wasn't sticking together but it was better than what it looked like in the muffin tins. I'm thinking to make it more like traditional baked mac & cheese, I added breadcrumbs to the pan, then take a spoon to try and evenly spread out the breadcrumbs. It looks ok,

minus the occasional spinach leaf sticking straight up.
Thinking I didn't tweak the recipe too much so, I was going to follow the cooking instructions as indicated. Well, after those 15 minutes, it looked just like it did when I put it in the oven, so I let it cook longer, checking on it. Not really much happens so after about 35 minutes, I take it out because I'm worried about it burning and it not being edible.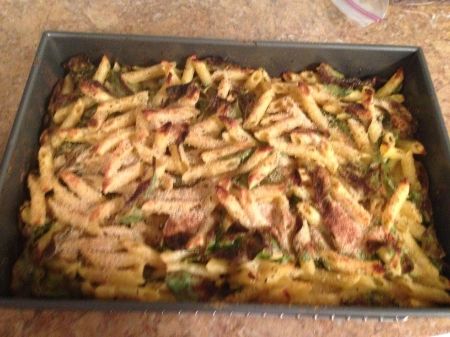 Well, after about a two and a half hour long process it turned out pretty damn good! Crispy pieces on the top and quiche like in the middle. YUM! Of course, I did not portion it out in 12 servings and I certainly ate more than one "serving" but ughh it was good!

I may have eaten half the pan that night.
So, yeah I'm driving blind when it comes to cooking but it turned out good. And yes, I do realize this prolly isn't as daunting or funny to you, but it complete defines my personality in the kitchen! A little hap-hazard but the results are usually better than expected!
Lesson learned: There is a reason recipes indicate specific ingredients. If you follow the recipe, it turns out pretty good without all the head aches and extra dishes! In addition it helps to READ the recipe.
*** I have made this recipe again, sticking to my original detours but I used frozen chopped spinach. It's necessary because it helps the sauce bind with the pasta and make its quiche-esk.
So, my hap-hazard version of this recipe is as follows:
Mac & Cheese Bake
Ingredients:
¾ of a box of cooked penne
1 T butter
1 T flour
1 c skim milk
3 garlic cloves, minced
6-8 oz sharp cheddar cheese, shredded
1 egg
1 egg white
1 (10 oz) package of frozen chopped spinach, defrosted, & drained… I didn't take the time to pat it dry
1/8 t Salt 1/8t Pepper
¼ t McCormick Pinch Perfect Basil & Garlic (optional)
1/2 c of Italian Style bread crumbs SPLIT
Directions:
1. Pre-heat the oven to 400. Lightly mist a 9x13 baking pan with cooking spray and set aside.
2. In a small sauce pot, melt the butter over medium heat. Add the flour, mixing it into the butter until thick. Stir in the milk and garlic and raise the temp to bring the mixture to just under a boil. Add the cheese and whisk mixture together until thoroughly melted/combined into a cheese sauce.
3. Remove the cheese sauce from heat and then mix in the egg and egg white (binding agents) until combined.
4. In a large bowl, combine the pasta, spinach, cheese sauce, salt, pepper, McCormick pinch perfect, and ¼ c of the bread crumbs and mix. Once combined, put into the prepped baking pan.
5. After in the pan, take the other ¼ c of bread crumbs and sprinkle on the top
6. Bake for 15-25 minutes until the tops slightly brown.